SOUTHEAST MICHIGAN:
Hot water is a must have no matter how you slice it. Whether you want a steaming shower or need to get tough stains out of your work clothes, hot water helps wash away and sooth in ways that cold and room temperature water simply cannot. As such, ensuring a steady supply of this precious resource is a top priority for homeowners and businesses alike. Lucky for you, a local Premier Plumbing professional in the metro Detroit area can get you a tankless water heater installed in no-time flat!
WATER HEATER INSTALLATION SAVINGS: Save some coin on a laundry list of plumbing repairs including water heater installation with exclusive offers from Premier Plumbing Inc –

CLICK HERE FOR COUPONS
Tankless Water Heater Installers Near Me
Premier Plumbing Inc. has been installing tankless water heaters since tankless water heaters were first introduced. Licensed and insured, if you are looking for the best "tankless water heater installers near me" then you've come to the right place! In this article, we will explore the advantages of going tankless, explain how these types of hot water heaters work, and discuss what to expect when it comes to installation.
Advantages of Tankless Water Heaters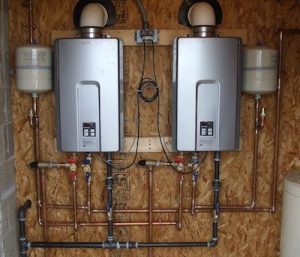 The advantages of tankless water heaters are several as they are both efficient and effective. In terms of efficiency, tankless water heaters use anywhere between 25 to 50 percent less energy than traditional tank units, which means smaller utility bills and more money in your pocket! This is because where a tankless water heater provides hot water only as necessary, whereas a traditional tank water heater is constantly working to keep dozens of gallons of water hot at all times.
Another advantage of tankless water heaters is that they are less likely to corrode and leak. This is because, unlike tanks, they are not constantly holding water. Finally, one of the biggest (or should we say smallest) advantages of going tankless is the fact that units are compact, meaning it can be easily covered or hid away compared to a large, beastly tank taking up precious real estate in your kitchen, basement, or garage.
GET A QUOTE ON A TANKLESS WATER HEATER INSTALL:

Talk to our team about your next plumbing project

 in the Southeast Michigan/Detroit area and get the job done right!
How It Works
When you turn on the hot water on your faucet water will begin to flow through the tankless unit. This movement prompts the water heater to kick on, thus activating the gas or electric heating device, which quickly heats up the water to the preset temperature as programmed by your plumber.
Once you turn off the water, and the pressure goes south, the heating element turns off. It's as simple as that! That means no standby losses and an endless supply of hot water for cleaning, cooking, and bathing!
Installation & What to Expect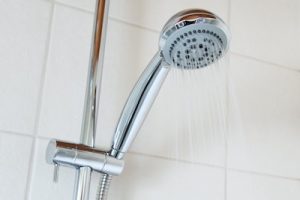 The first step in the installation process is figuring out where you want it to go. The small size of the tankless water heater allows for installation in a variety of places like closets, crawl spaces, and attics. So long as it is reasonably accessible, your plumber should be able to accommodate for your desired location.
Once the location has been determined, you will need to think about the size of your house and the amount of hot water you will need at any one time. If you have a larger house and multiple people living there you may consider multiple units or one large, deluxe unit.
Finally, tankless water heaters will also require their own, dedicated venting systems to ensure proper cooling and heat regulation. Have no fear! Your Premier Plumbing professional will educate you every step along the way–from placement to capacity–and give you an accurate estimate after conducting a thorough investigation and discussing different options based on your unique situation.
DOES YOUR BORING BATHROOM NEED A FACELIFT? Read about all of

the

services offered by Premier Plumbing and schedule your next plumbing project in Michigan today!
The "Premier" Hot Water Professionals
Since 1987, Premier Plumbing Inc. has been answering the call for the residents of Southeast Michigan–providing practical plumbing solutions at competitive rates all while upholding an exceptional standard of customer service. With locations in White Lake, Fowlerville, and Hartland, Premier Plumbing serves 8 counties in the metro Detroit area and beyond. If you are having issues with your hot water heater or are looking for tankless hot water heater installers near you, than be sure to give Premier a call ASAP @ https://premierplumbing-mi.com/contact/!
To get in touch with Premier Plumbing please complete the form below: