Photo by Max Vakhtbovych from Pexels
If you are thinking of pampering yourself with a bathroom remodel, you may be overwhelmed with all of your options. Trends are constantly evolving, so you want to make sure that you are investing your money in bathroom updates that will withstand the test of time. That being said, a lot of today's popular master bath must-haves will stay popular in the long-run due to their equal parts luxury and practicality. Check out some of the most exciting bathroom updates below!
Sophisticated Showers
If you truly want your master bath to feel like your own personal spa, an expanded shower with twin shower heads is definitely the way to go. With dual shower heads, there's no more waiting for your significant other to finish showering or having half your body out of the water flow. There's simply just pure relaxation!
Another fun improvement to up your master bathroom game is the addition of a steam shower. Steam showers may sound too posh for your own home, but trust us when we say it is a total game changer for your daily routine. Using a steam shower regularly has been proven to improve circulation, detox your body, and boost your metabolism.
Comforting Tubs
Attached tubs are a thing of the past with the large variety of freestanding options to now choose from. Not only do freestanding tubs look crisp and clean, but they can offer more room to fully submerge into that relaxing hot water. If you are considering a remodel and have the floor space, a freestanding tub is definitely a master bath must-have.
Another trend that we think is here to stay simply due to its practical nature is large wet areas in the master bath. This is where you have a large waterproof area that houses both your shower and freestanding tub. Setting your floorplan up like this can give you a real upscale feel, while ensuring all water is contained.
Intelligent Sinks
A proper remodel shouldn't be without considering eco-friendly options that not only help the environment, but can help your wallet. Installing water-efficient faucets in your master bath will help reduce water waste and help you keep your peace of mind while going through your daily routine.
As long as we are talking about faucets, we can't forget about the appeal of the touchless variety! Touchless faucets aren't just for your kitchen, but can be an excellent choice for your bathroom as well. Preventing the spread of germs and keeping things clean definitely qualifies this as a master bath must-have.
Flawless Flooring
There's nothing less relaxing in the morning than getting out of bed and walking onto freezing cold floors. If you really want to have a great start to your day, heated bathroom floors are the way to go. With technology always evolving, there are now heated floors that heat up in a matter of minutes to take you straight into a calm state of mind.
Outside of feeling fancy in your new upgraded bathroom, you will want to consider safety features as well. Slip-resistant flooring can really help ensure you are safe, as they can help prevent major falls and accidents. The good news is that these floors are just as beautiful as any other bathroom option!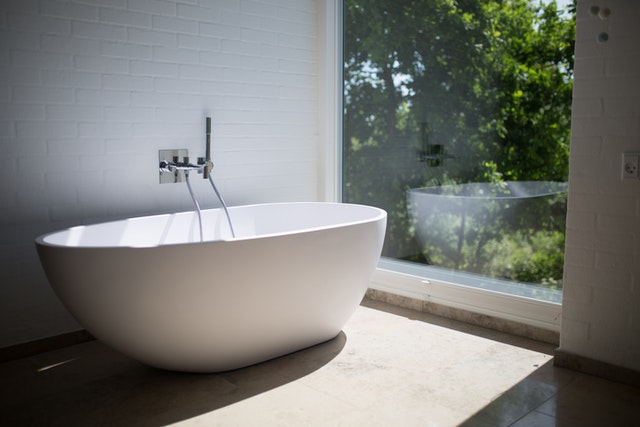 Photo by Rene Asmussen from Pexels
Bathroom remodels can be super overwhelming to get started, but with the right help and expertise on your side, you can ensure your master bath must-haves become a reality in your home. Premier Plumbing, Inc. is always happy to help bring your bathroom dreams to reality!
To get in touch with Premier Plumbing please complete the form below:
Metro-Detroit Plumbing Problems Hotline:
Location: White Lake, Michigan
Phone: (248) 363-5864
Location: Hartland, Michigan
Phone: (810) 632-7420
Location: Fowlerville, Michigan
Phone: (517) 223-4360
Email: [email protected]
Request a FREE repair quote with Premier Plumbing, Inc. online at premierplumbing-mi.com/get-a-plumbing-quote/